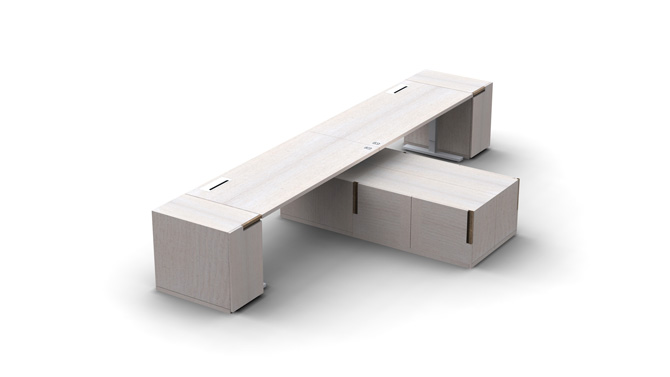 OXO
Design PetterssonRudberg
Manufacturer Horreds möbler

OXO provides the backbone of the open office and giving the user new opportunities for creative collaboration with colleagues.
OXO workstation is characterized by a side oriented storage unit, common for two workspaces. This unit creates a common table for two neighbours aswell as it contains computer / CPU storage under the worktable.
All storage elements can be equipped with power supply and data port, hidden in the integrated cable management.
The handles are available in different materials and colors, pure metals such as brushed brass and brushed stainless steel, but the handles are also available in different colors. OXO gives the user great freedom and many opportunities for a personal touch.
The series' unique structure, design and details create, along with Horreds feeling for material processing, an elegant, functional and unique whole.

The OXO office concept is used in EA Games headoffice.